FEBRUARY 2016
Talley Fisher: Defying Gravity
Article from CODAworx
OCTOBER 2015
Sculpture Represents Father-Daughter Collaboration
Article from statecollege.com
JULY 2012
Our Town: Bellefonte
From the WPSU series, Our Town
Centre Daily Times, July 7, 2012. "Installations Take Flight". Article on the Desert Sunrise, Waterfall, Blue Arroyo installation at McCarran International Airport, Terminal 3, Las Vegas, NV.
JUNE 2012
Medical Construction & Design Magazine. May – June 2012 Issue. Cover story and image. Susquehanna Reverie installed in Susquehanna Health System's Patient Tower, Williamsport, PA. Pages 36-37.
JANUARY 2012
Beauty & Hope – Susquehanna Health opens new patient tower, transforming medical campus
Article from Lock Haven Express
Art as Medicine – Tower's artwork promotes healing

Article from Williamsport Sun-Gazette
Artists display works in Susquehanna Health Tower
Article from Lock Haven Express
FEBRUARY 2011
Article and cover story from Healthcare Design Magazine
APRIL 2010
Delta Sky Magazine featuring JetStream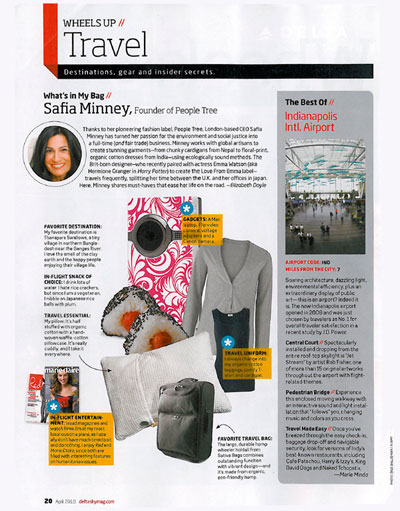 FEBRUARY 2010
TRUMP Express. February, 2010. Back cover photo and review of Sea Turtles, One Ocean Resort, Atlantic Beach, FL.
"A sculpture is more than art. It is a mark of the society in which it appears. Talley Fisher, from Rob Fisher Sculpture, LLC, conveys thoughtful ideas for the world to decipher and interpret. Whether the artist is articulating a concept or inspiring a thought, each piece is planned, configured and crafted beautifully and philosophically. Total Manufacturing Company (TMCO)'s Metal and Art division recognizes the passion of Talley's sculptures. With the TRUMP tools to transform metal into artistic outlines, TMCO makes it possible for her to create works of art from pieces of metal, forming concepts into tangible reality, as seen in "Sea Turtles" at One Ocean Resort. Atlantic Beach, FL."
2009
A Touch of Magic
Article from CENTRAL magazine, Issue 03, 2009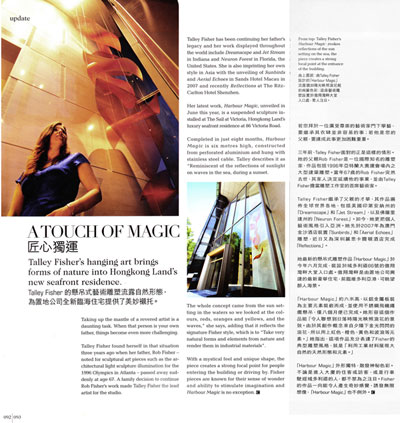 Indianapolis Airport Authority Comprehensive Annual Financial Report for fiscal year 2009.
DECEMBER 2008
Reaching to the Heavens
Centre Daily Times, Dec. 1, 2008. Article on the design of Rob Fisher's JetStream suspended sculpture in the Indianapolis Airport and the subsequent fabrication and installation of the monumental work after his death by his daughter, Talley Fisher.